types of


braces

Orthodontic treatment is no longer just for teens! In fact, according to the American Association of Orthodontists, one in five orthodontic patients is over the age of 21! Many adults are choosing to receive treatment because they understand the importance of maintaining their health and they want to feel better about their appearance. Today's orthodontic treatment options offer a variety of braces and appliances that are comfortable, aesthetic, and customized to meet your needs, such as clear braces, self-ligating braces, and clear aligners. Remember, a straight smile isn't just beautiful; it will help you maintain the health of your teeth for life!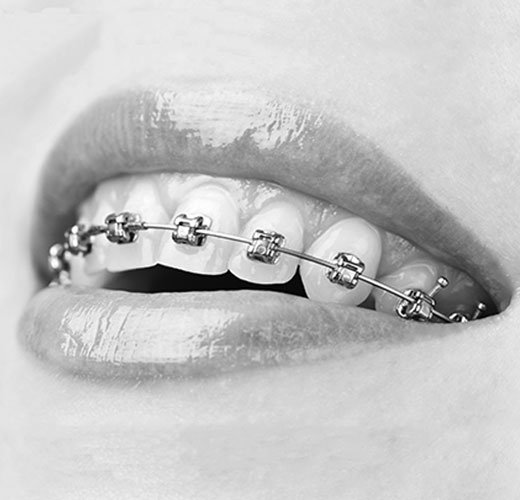 In-Ovation Brackets
Self-ligating braces are made from the same materials as traditional braces and come with traditional metal or clear, ceramic brackets. The use a specialized metal clip instead of colored elastics to help the archwire guide teeth into place. The clip helps reduce the amount of pressure being placed on the tooth, and requires fewer adjustments because there are no elastics to replace.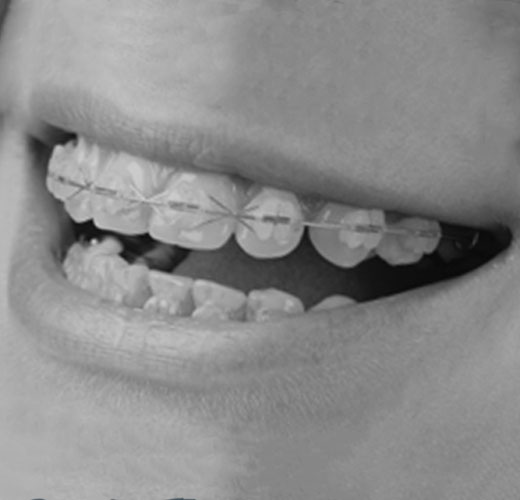 Clear Brackets
Ceramic braces are made of clear materials and are therefore less visible on your teeth than metal braces. For this reason, ceramic braces are used mainly on older teenagers and adult patients who have cosmetic concerns. While they are visually less prominent, they do require more attention to oral hygiene as ceramic braces are larger and are more brittle than their metal counterparts.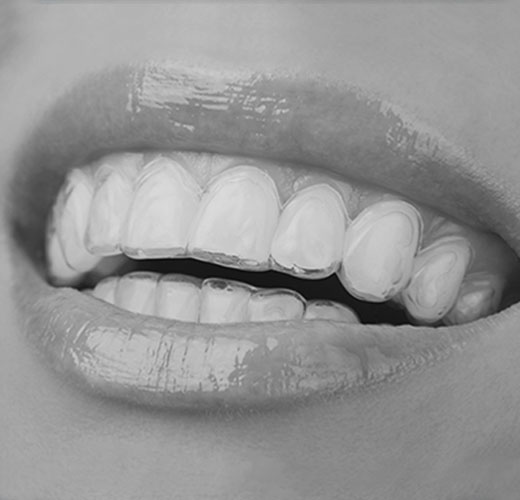 Invisalign
Clear aligners are a series of invisible, removable, and comfortable acrylic trays that straighten your teeth like braces. Not only are the aligners invisible, they are removable, so you can eat and drink what you want while in treatment, plus brushing and flossing are less of a hassle. The aligners are comfortable and have no metal to cause mouth abrasions during treatment.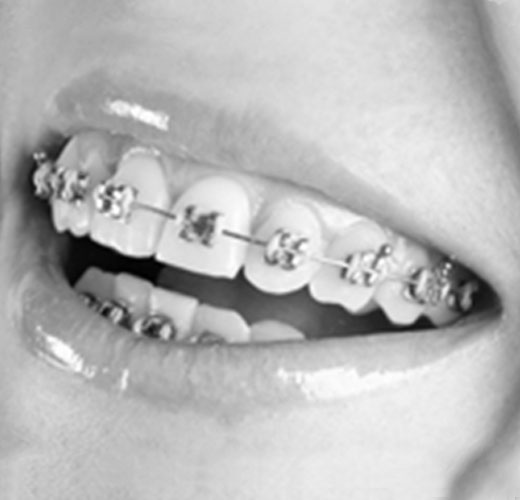 Traditional Brackets
Traditional metal braces are the most common type of braces and are more comfortable today than ever before. Made of high-grade stainless steel, metal braces straighten your teeth using metal brackets and archwires. With metal braces, you have the option of adding colored elastics (rubber bands) for a more unique and colorful smile.
Treatment
Interceptive Treatment

The goal of interceptive treatment is to help the jaw develop in a way that will accommodate all of the permanent teeth and to improve the way the upper and lower jaws fit together. Children often exhibit early signs of jaw problems as they grow and develop. An upper jaw that is growing too much or is too narrow can be recognized at an early age. If children over the age of six are found to have this jaw discrepancy, they are candidates for early orthodontic treatment. Children benefit tremendously from early phase treatment. Receiving early treatment may prevent the removal of permanent teeth later in life, or the need for surgical procedures to realign the jaws.

While there is no exact age for children to begin orthodontic treatment, the American Association of Orthodontists recommends visiting the orthodontist around age seven. Early treatment allows your orthodontist to correct and guide your child's jaw, create more space for crowded teeth, avoid the need for extractions later in life, and correct thumb sucking and minor speech problems. There are a few things to watch for that may mean your child needs to see an orthodontist, such as crowded or misplaced teeth, difficulty chewing or biting, mouth breathing, or thumb sucking.

Phase I, or early interceptive treatment, is limited orthodontic treatment (i.e. expander or partial braces) before all of the permanent teeth have erupted. Such treatment can occur between the ages of six and 10. This treatment is sometimes recommended to make more space for developing teeth, correction of crossbites, overbites, and underbites, or harmful oral habits.

Comprehensive Treatment

The goal of the comprehensive orthodontic treatment is to make sure each tooth has an exact location in the mouth where it is in harmony with the lips, cheeks, tongue, and other teeth. When this equilibrium is established, the teeth will function together properly. Comprehensive treatment usually involves full upper and lower braces.

Orthodontic treatment is no longer just for teens! This treatment phase begins when all permanent teeth have erupted, and usually requires braces on all the teeth for an average of 18-24 months. Retainers are worn after this phase to ensure you retain your beautiful smile for a lifetime!

There are many options to achieve your beautiful smile including traditional, in-ovation and ceramic brackets. Invisalign is also an option for this phase of treatment.

Braces

Braces are no longer as scary as many may think. In fact, braces today come in a variety of styles, materials, and colors, making life with braces much easier, more comfortable, and even more stylish than in the past. There are several treatment options to choose from, including traditional metal, ceramic, and invisible braces. Treatment times can vary depending on how quickly your body responds and how much work is needed to give you the show-stopping smile you expect. Regardless of the type of braces you choose, it is important to avoid sticky, hard, or chewy foods, as these may damage your braces and prolong your treatment time.

Invisalign

Invisalign uses a series of invisible, removable, and comfortable aligners that no one can tell you're wearing. So, you can smile more during treatment as well as after. Invisalign is made with 3-D computer imaging technology and has been proven effective. More than 70% of orthodontists in the US and Canada are certified to treat with Invisalign.

Not only are the aligners invisible, they are removable, so you can eat and drink what you want while in treatment. Plus, brushing and flossing are no problem. They are also comfortable, with no metal to cause mouth abrasions during treatment. Without metal brackets and wires, Invisalign patients spend less time in the office getting adjustments. Invisalign also allows you to view your own virtual treatment plan when you start so you can see how your straight teeth will look when your treatment is complete.

You wear each set of aligners for about 2 weeks, removing them only to eat, drink, brush, and floss. As you replace each aligner with the next in the series, your teeth will move — little by little, week by week — until they have straightened to the final position your doctor has prescribed. You'll visit our office about once every 6 weeks to ensure that your treatment is progressing as planned. Total treatment time averages 9-15 months and the average number of aligners worn during treatment is between 18 and 30, but both will vary from case to case.

Dentofacial Orthopedics

One of the nine specialties that a dentist may specialize in is "orthodontics and dentofacial orthopedics." You probably know that an orthodontist straightens teeth, but will also provide treatment that involved the guidance of facial growth and development, which occurs during late childhood.

Appliances are frequently used — the more familiar braces for orthodontics, and other specialized appliances like headgear and expanders depending on what facial abnormalities are present. Sometimes orthopedic treatment may precede conventional braces, but often the two are accomplished at the same time. So if your child gets braces and headgear, he's undergoing orthodontics and dentofacial orthopedics!

iTero

Our practice now offers the iTero Impressionless Scanner in our office. The innovative iTero Impressionless Scanner is an advanced technology used to take oral impressions for braces, Invisalign®, Appliance and retainers. Impressionless scanning uses confocal imaging to digitally capture the shape of teeth and gums, providing a multitude without the use of traditional impressions.

Traditional impression techniques requires a patient to be uncomfortably seated while having a messy substance in their month. However, with the iTero Impressionless Scanner it takes 1/3 the time to take an impression, and creates a much more detailed result.

iTero Impressionless Scanners have several benefits over traditional impressions. First, a patient's movement does not distort the scan while eliminating the invasiveness and discomfort caused by impressions. Second, the real-time digital display of scans allows for immediate adjustment, assuring accurate scans the first time. Finally, the image quality of impressionless scans is superior to conventional impressions.